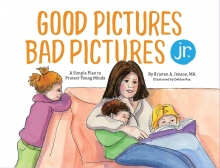 Good Pictures Bad Pictures Jr.: A Simple Plan to Protect Young Minds
Kristen A Jensen
Good Pictures Bad Pictures Jr. is a fun and quick read, helping prepare little ones with a game plan for the day they encounter bad pictures (pornography).
Question 1 - What are some of your favorite good pictures?
Discussion Guide - Allow your child to describe some of his or her favorite family photos.
Question 2 - What makes a bad picture bad?
Discussion Guide - Discuss how bad pictures make parts of bodies that should be private no longer private.
Question 3 - If you ever see a bad picture, what are the three things you should do?
Discussion Guide - Discuss the turn, run, and tell strategy given in the book.
Join the Foundation Worldview Book Club
Each month we provide recommended reading with discussion questions for you and your child. Don't miss next month's recommendations from Foundation Worldview!