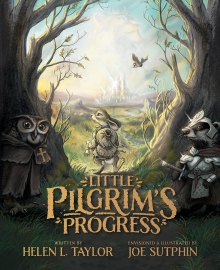 Little Pilgrim's Progress
Helen L. Taylor
Little Christian leaves behind the City of Destruction and starts a dangerous journey toward the Celestial City. Along the way, he encounters many different people, situations, and obstacles that hinder him on this journey. However, his faithful shepherd always supplies what he needs to continue the journey toward his true home, the Celestial City.
Discussion Points - This entire story is an allegory of the Christian life. We recommend you read this book out loud with your child. As different characters and situations are presented, we recommend you discuss with your children the direct connection with our lives, as Christians. For example, when little Christian and Faithful arrive in Vanity Fair, discuss some things in our world that distract Christians from leading a God-honoring life (mindless entertainment, gossip, excessive food, etc.). Or, when Christian and Hopeful find themselves locked in Doubting Castle with Giant Despair, discuss how it was the key of promise that helped them escape. Then ask your children what the key of promise is for us (God's Word).
Join the Foundation Worldview Book Club
Each month we provide recommended reading with discussion questions for you and your child. Don't miss next month's recommendations from Foundation Worldview!