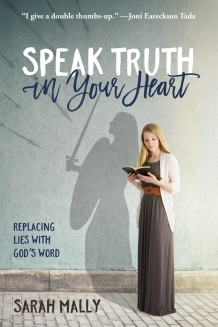 Speak Truth In Your Heart
Sarah Mally Hancock
Ages 8-12
We know we must intentionally prepare our children to confront the lies of our culture. But are we also preparing them to confront the lies that arise in their own hearts? Speak Truth in Your Heart was originally written for girls. However, we think this book is a powerful resource for helping both girls and boys understand how to combat lies with Scripture. We highly recommend you read this book aloud with the children God has placed in your care.
Questions - After reading each chapter, we recommend you discuss the following questions:
What are one or two truths revealed in this chapter that you would like to remember?
What makes these truths so important?
What can you do to remember and live out these truths this week?
Join the Foundation Worldview Book Club
Each month we provide recommended reading with discussion questions for you and your child. Don't miss next month's recommendations from Foundation Worldview!